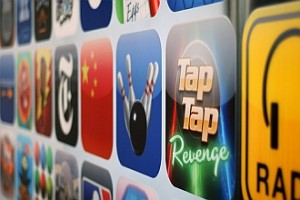 In an app marketplace dominated by games, to-do lists and social media, I thought it would be worth highlighting some ethical apps that are worth taking a look at.  Turns out you can use your smartphone to help change the world (and no, I don't mean by getting Justin Bieber trending on Twitter again).
Here's a few of the better ones I've come across or heard about:
iRecycle (iPhone/Android, Free) – iRecycle is a little utility app that allows you to find the nearest recycling drop-off for a wide range of items. Going well beyond the usual paper/plastic capability you have at home, you can find where to recycle electronic goods, paint, metal, even hazardous material.  Seems to have pretty good coverage, although like most apps is primarily focused on the USA and Canada.  Also includes relevant news updates and various social media options.
Good Shopping Guide (iPhone £2.99) – It seems that every week, at least, there are new stories about major companies involved in unethical business practices.  The power of social media has started to bring these issues much more to the forefront (Nike and Nestle we're looking at you), and you can also purchase an app for your phone which will help you make ethical shopping decisions while out and about.  Outside of the actual brand comparisons, there's some great information about ethical issues within different categories which can be quite eye-opening and a definite conversation starter for the more ethically minded (for Australian brands, also check out Shop Ethical! USA gets The Good Guide which also very helpfully scans barcodes, and there's also Free2Work which focuses on ethical labour).
Eco Mania (iPhone £0.69) – Whilst it would be remiss to say that you should rely on edutainment to teach your kids ethical standards, it can't hurt to throw in a few titles here and there.  Eco Mania is a pretty simple iPhone game that aims to teach the player the different categories of recycling and what can and can't be recycled from home.  Aspects of home life such as recycling is something that children should be involved with hands-on, and an app such as Eco Mania helps get the message across.
Privacy Plus (iPad £0.69) – Ethical software isn't always about environmental sustainability or corporate ethics, privacy should also be considered an issue of ethical importance.  Most people don't really consider the need for privacy on a platform such as the iPad, which is strange considering that it's often handed around and used by friends, family, visitors, work colleagues and many others.  Privacy Plus doesn't just offer an enhanced browser experience (Safari = bleh), but it also provides basic internet privacy when it comes to removing search terms, cookies, browser history and cache.  If you're on Android, you can one-up this with Orweb which not only has extensive privacy settings but also allows you to route traffic through a proxy service such as Tor – highly recommended.
ONE (iPhone, Free) – As much as it pains me to recommend anything related to Bono, it has to be said that the ONE campaign is onto something here with their collective advocacy app.  Unfortunately it's only available to download in the US, so I haven't had the opportunity to try it out personally, but just by researching online you can see the capability of an app like this.  The main concept is to mobilise large groups of people quickly, whether that be getting them to sign a petition, encourage a viral campaign through social media, or make thousands of phone calls to government officials.  It shows a glimpse of how powerful crowd-sourcing can be for ethical purposes, and something that we need to see a lot more of.
United Nations News Reader (iPhone/Android, Free) – Whilst we can, and should, debate about whether or not the United Nations acts ethically on various issues, at the very least we must acknowledge that the UN often has an agenda that focuses on human rights, the environment, poverty reduction and many other pivotal ethical issues of the 21st century.  This app keeps all the updates in one place, and is a great way to keep abreast of the current issues being tackled.  There's also Human Rights Watch which takes a particular focus on news relating to that topic.
Congress (Android, Free) – Unfortunately I haven't been able to test any of the Android apps out (not owning an Android phone), but I've chosen Congress to represent a category of smartphone applications that help you better engage with your government and the democratic process. It's important to utilise new technology in a way that allows greater representation and communication of and between members of society, and apps such as Congress which provide detailed and up-to-date listings of government representatives, the latest bills and laws being passed, and the results of various hearings are vital for the long-term wellbeing of modern society.  For the iPad, check out MyCongress.
Seafood Watch (iPhone/Android, Free) – Quite a slick app for what many would consider a rather niche focus, Seafood Watch provides you with detailed information about how different types of seafood are caught or farmed and where to find the most ethically sourced specimens.  User created content helps keep it up-to-date, although the focus is primarily North American.
iHobo (iPhone, Free) – An interesting example of how to make an impact with new technology, iHobo is kind of like the Tamagotchi of homeless advocacy.  It's a three-day application that puts a young homeless man on your phone, and how you react to his needs influences his fate.  It's an app that promotes empathy and compassion, and one that will make it harder to just dismiss that person on the street next time they ask you for some spare change.  A great example from the charity sector by Depaul UK.
ObscuraCam (Android, Free) – Another one for the privacy crowd, this time related to the taking of photos on your Android phone.  It allows you to pixelate faces or other areas on the photos that you take, and also removes EXIF metadata which is capable of storing things like date, time and location of the photo within the image file.
I was also going to include Sukey, an app that allowed protesters to communicate the location of police in real-time and avoid kettling tactics, but perhaps not surprisingly the website is no longer live. Do we think this had anything to do with the recent UK riots?

What other ethical apps are out there? Let us know by commenting below!