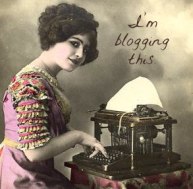 Ethics is an important part of the aims of Future Conscience, and the ethics of the internet is something that we have been covering quite considerably.  Over the past few months, I've put together a series of posts on ethical blogging as a way to try and promote a more beneficial and positive way of using what the internet has to offer us.
Ethics Newsline, which is a part of the two decade old Institute for Global Ethics, has recently thrown their hat into the ethical blogging ring with a post by Rushworth Kidder.  This post attempts to formulate a universal code of blogging ethics in order to make the blogosphere a better place for everybody involved.
The code relies on five ideals, that each relate to various actions and ways to go about our blogging.  The ideals are:  respect; responsibility; honesty; fairness; compassion.  They've done a pretty nice job of formulating a very base level ethical framework for bloggers, and I definitely recommend that anybody who blogs, or even reads blogs, should go over and check it out in more detail.
Of course, I can't let this opportunity go by without also mentioning the posts here on Future Conscience – so once you've gone and had a look at the Blog-Posters Code of Ethics, make sure to come back here and check out our series on Ethical Blogging!