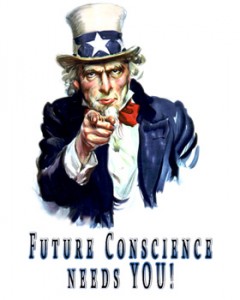 I've mentioned this a few weeks ago, but voting still continues for Tycoon Bloggers 'Rookie Blogger of the Year' award and we need YOU!
Voting ends in about two weeks and we are currently sitting in third place, just 7 votes behind the leader.  So it's time to send out another call to action!  Please, if you read our site and enjoy what we have to say, vote for us!  It will only take about thirty seconds of your time, and it means a great deal to us.  Not to mention that if we are able to win we will receive prizes mostly in the form of free advertising space, which means that more people will become aware about the important ethical issues that face all of us in the future.
If you wish to vote for us, these are the steps you need to take:
1)  Head over to Tycoon Blogger.
2)  On the right hand side of the screen you will see a column of website screenshots.  Find our one, which can be identified by the image of the hands holding the Earth.
3)  Click on the circle ABOVE the image to select it.
4)  Scroll down to the bottom of the column and click on the VOTE button.
5) ???
6) Profit.
We really hope that you have found some value from our site in the three months that we have been running now.  Any recognition or support that we get only serves to fuel our enthusiasm to keep bringing you news, articles, reviews and anything else we can dream up that relates to the future of humanity.
Please, take a moment of your time now to vote for Future Conscience:  we need YOU!