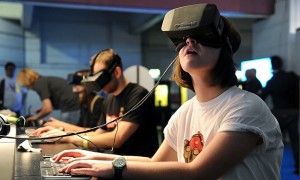 The levels of excitement are building, the hype-engine I've strapped myself into is taking off.  A fortnight ago I took the plunge and pre-ordered the latest DK2 version of the Oculus Rift.  It's not ready for the consumer market (with CV1 unlikely to emerge until 2015), but you can't get much more of an enthusiast edge for VR than the futurist community!
Ordering a DK2 is a slightly daunting experience.  You know that it's a development kit, and therefore that it will require a bit of graft to get everything working.  Also, most of the software available at the moment are in Alpha/Beta stages or little more than glorified tech-demos.  All of that will come in good time – but one of the first questions that crossed my mind was a simple one with possibly heavy consequences on the bank account: what kind of peripherals and accessories should I get?
There's a lot out there already and plenty more coming on the horizon.  So here is a first attempt at a guide of the peripherals you might want to consider for your incoming Oculus Rift DK2…
Control Systems
The most obvious category to begin with are the multitude of control systems to pick from.  You'll start with the trusty mouse and keyboard combination, a worthy foundation but hardly the stuff of immersive presence in a new virtual world.  The first step for most, as it's something that you will either already have or can pick up very cheaply, is a standard console controller – with the Xbox 360 controller being an easy upgrade (indeed it's interesting that Oculus VR just acquired Carbon Design, the original designers of that very controller).  There are plenty of analog dual-stick controllers available for the PC, and you're definitely going to want to pick one up for your new Rift.
A step up from this are speciality controllers, well known to the more hardcore simulator communities out there.  Steering wheels, along with feedback and peddle systems (such as the Logitech G27 on the lower end, or a SimSteering system for the prosumer) are a must for driving simulations; whilst Hands On Throttle-And-Stick (HOTAS) controllers are an impressive way to boost presence for flight and space sims (starting with the Thrustmaster T-Flight and heading on up to the Saitek X-55 Rhino or the Thrustmaster Warthog).  With all kinds of sticks, wheels, pedals, throttles and yokes out there for the simulator community we're spoilt for choice – and little else will improve the level of presence more than having in your hands the same type of control system as that depicted in-game.
All of these control systems are standard fare even without an Oculus Rift headset or other Head Mounted Display (HMD), but what is out there or on the horizon that will really bring things to the next level?  The answer comes in the form of motion controllers.
Part of the magic of VR comes from the positional tracking that you get when moving your head, allowing you to really be in virtual environments as you look around naturally.  A dissonance emerges when you are able to see hands in-game that don't move in sync with your own.  Most of us are familiar with motion controllers because of the Nintendo Wii, and they're an essential purchase for those looking for the full VR experience.  A pretty common controller amongst DK1 users is the Razer Hydra, which although seemingly no longer produced by the manufacturers are still relatively easy to find online.  Thankfully the company behind the Hydra's, Sixense, looks to be developing the next big thing in VR controllers – the STEM system allows for full body control, including legs, and with a release in October 2014 looks to be a pretty sleek way to solve your VR control needs (albeit at a price…).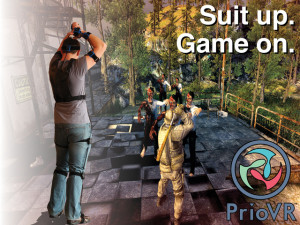 Further on the horizon there are a growing variety of motion controllers, many of them using Kickstarter to crowdsource seed funding.  The usual caveat emptor applies with such campaigns, but a few that look promising are the full-body PrioVR and Control VR; the Leap Motion Controller that can be mounted on the Oculus Rift; and the Omni Platform as one of the early, viable attempts to translate physical movement into VR.  These are all still in varying degrees of development, and for the most part come with a hefty price tag, but with Oculus VR themselves almost certain to introduce immersive input systems the future looks bright for our VR control possibilities.
Audio Headphones
Audio is just as important to get right as the visuals and positional tracking for a true experience of VR presence, and a good set of headphones will be a vital purchase for the VR enthusiast.  There's plenty of information out there about different headsets from the likes of Bose, Sennheiser and other major providers, but there are a few extra things to consider in this particular context.  The first of which is whether you want to go for a wireless headset, such as the Astro A50, Logitech G930 or Turtle Beach XP SEVEN.  On the other hand, you might want to go for a wired headset to provide the best (seated) experience such as the Sennheiser HD 558, the noise-cancelling Beyerdynamic DT 770 or the professional Bose A20 Aviation headset.
Software Injectors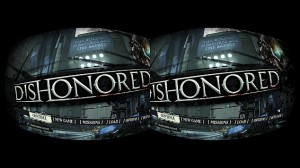 One of the problems of being an early adopter is that although you often get the newest, shiniest piece of kit it can take a while for the real depth of software experiences to emerge – and the Oculus Rift is no different in this respect.  The vast majority of software available for the DK1 consisted of tech demos or short experiences, and we're only just starting to get the first glimpses of full gaming integration with the likes of Alien: Isolation showcased extensively at E3 and Elite: Dangerous looking set to be the first must-have VR experience.
For those of us who don't want to wait that long, there's a stop gap solution in the form of software injectors that allow you to experience traditional games in stereoscopic vision using a HMD.  They're not perfect, particularly given the fact that games that aren't designed for VR can have problems with things such as scale and nausea-inducing movement schemes, but they're an important accessory to add into your VR kit come next month.
The main contenders in the VR Injector space at the moment come from vorpX, Vireio Perception, and TriDef 3D.  For those interested in a virtual cinema experience, check out VR Cinema or CINEVEO.
Wacky & Fun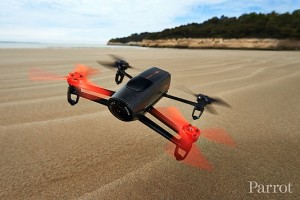 Well, obviously the first thing you should purchase under this category are a cheap set of googly-eyes…but for those who are keen for the most out-there experiences VR is not going to disappoint.  Although the likes of the Birdly simulator aren't likely to see mainstream adoption anytime soon, the Parrot Bebop Drone is an impressive use of a HMD to interact with items in the real-world.
For those looking to add a bit more immersion you could consider supporting the Petal fan which needs a hefty boost over the next fortnight to cross its Kickstarter funding goal.  The FPS lovers out there are going to want to look into a variety of gun controllers once they start rolling out.  For the VR purists you're going to have your eye on a haptic feedback system to enable a sense of physical presence.  The KOR-FX gaming vest has surged through the funding goal with almost a month left to go, making it one of the more promising items of this kind in development, and for those who really want to feel the rumble you could pick up the ButtKicker: Gamer2 to crank the power right through your seat.
Finally, the elephant in the room at most professionally focused VR junkets is the adult entertainment industry – and I was amused to add a new term to my vocabulary this week with the wonderful world of 'teledildonics'.  A lot of men seem to be excited by the prospect of the Autoblow 2 when combined with NSFW VR content – although anything that features an 'industrial strength motor' is not really something I want anywhere near my crotch!
Games & Software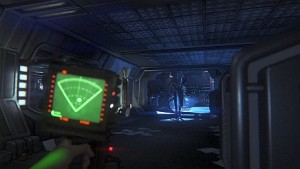 We all know that VR hardware is nothing without the software to immerse yourself in.  Once the DK2 arrives proper I'll be looking at many different games and other software in more detail, but for the moment there are a few good sites you should be exploring which provide detailed lists of VR ready/able software.  Start with the developer's own Oculus VR Share for dedicated software and demos, and then have a look through the likes of /r/Oculus, Rift Enabled, The Rift List, and for those who never want to leave VR check out VirtualReality.io.
With all these games and other software to dig into, don't forget you'll also need a good graphics card to handle it all!  Upgrading your GPU through the latest that the likes of Nvidia or AMD have to offer is an additional expense you won't regret for the resource hungry stereoscopic 3D that the Rift provides.
Blogs & News
This guide cannot possibly be comprehensive, and as the VR sector expands at an astonishing rate it seems that almost every other day there's a major product announcement.  To keep in touch with the latest developments there are some great people out there providing up-to-date news and reviews.  Some of my favourite blogs and sites include the aforementioned /r/Oculus, Road to VR, the Oculus VR Developer Forums, the EnterVR podcast, and the original birthplace of the Oculus Rift over at the Meant To Be Seen 3D forums.  For your YouTube subscriptions you should add: Tested, eVRydayVR, Cymatic Bruce, VR Brotherhood and Pewdiepie (yes, haters, he's a massive champion of the Oculus and a key player in bringing VR to millions).
I think that sums it up for now…
I'm still not 100% sure what I'll end up purchasing myself, but I've definitely got my eyes on some second-hand Hydras, a nice new headset, and a mid-range HOTAS controller to help fulfil all those sci-fi fantasies when Elite: Dangerous hits!
Delivery of the Oculus Rift DK2 is expected to roll-out at some point during July, and I'm expecting to receive my kit in August.  Watch this space for more commentary and reviews as this new phase of futurist technology finally breaks out into the mainstream.
What have I missed out?  Add to the guide by commenting below!