Header Image: Tears in the Rain still, Directed by Christopher Grant Harvey.
Blade Runner 2049 has arrived, allowing us to once again delve into the mind of Philip K. Dick and the echoes that he left behind in popular culture.  During these troubled and duplicitous times, the inherent understanding in his work that reality is multi-faceted, constructed and therefore easily manipulated serves as a beacon to guide us through the maze of perspectives and propaganda that is broadcast to us from all angles.
There are an increasing number of us who have taken Dick's work and embedded it into the core of our shifting identities and being.  One such individual is Daniel Abella, who in 2012 founded the now international Philip K. Dick Film Festival that continues to rise globally and go from strength to strength.  The next outing for the festival takes place in Europe with a gathering that celebrates the incredible talent of independent filmmakers and honours Philip K. Dick's worldwide legacy, returning to its familiar ​venues at Filmclub 813 e.V. in Cologne, Germany from October 27-28, 2017 and at L'Hybride in Lille, France from November 2-3, 2017.
As one of the media partners for the festival in recent years, we had the pleasure of interviewing Daniel last year about the origins of the film festival and its purpose.  Today, we get to continue the conversation and consider what it means for the works of Philip K Dick to gain even more traction in mainstream culture; right when we seem to need his insight the most.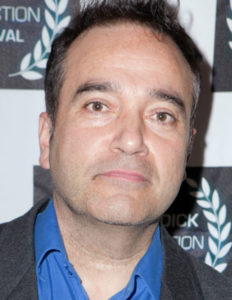 Q.  Daniel, thank you for taking the time to talk to us once again. The PKD Film Festival has been growing from strength to strength, now with its fourth outing for the European festival – what's new as far as your format and programme this time around?
A.  In addition to a strong science fiction lineup, this year we will feature an exceptional lineup of major acting draw appearing in our feature premiere films. Moreover, one of our major panel themes is called The Altered States of America, where we will be discussing drug and non-drug induced altered realities people experience every day and how that is shaping the culture and the movies we experience.
Q.  In an age where everything is becoming digital, a physical festival in real cinemas almost feels like a throwback. What is it about film festivals that appeals to you?
A.  We are living in the experience economy where people crave interactivity and immersive experiences. When someone attends one of our festivals they receive a timeless, connected experience that cannot be reproduced on a digital copy.
Q.  Is there anything you wish you could do, but can't just yet?
A.  My dream is to run a festival that runs for two weeks straight, pulling a cross of top of the line panels with cutting edge sci-fi and more VR installations.
Q.  It feels like PKD is finally getting mainstream recognition. What do you think of recent adaptations such as Blade Runner 2049 and Electric Dreams?
A. This is the year of PKD. We see it in The Man in the High Castle, Blade Runner and Electric Dreams. The stories being shown are fairly faithful to the original work.  So far [for Electric Dreams], 2/3 episodes have received good press. I am hopeful that we will see more to come. We are talking to the creators of Blade Runner to have a screening sometime after the movie is released. Stay tuned.
Q.  Do you get many submissions to the festival that are adaptations of PKD's work?
A.  Yes, every year we get 2-3 direct adaptations. Last year we got Beyond the Doors which is based on a short story in public domain. We also screened Tears in the Rain based on Blade Runner. As a whole, most of the movies reflect the favourite themes that run thru PKD such as dystopia, parallel realities, android vs. human, who are we? and paranoia.
Q.  What was the most recent book/story of his that you read and what did you think about it?
A.  Flow My Tears, the Policeman Said … it is very troubling and reminiscent of current American politics.
Q.  That's certainly one of his books that deserves a faithful adaptation given how relevant its themes are today.  What do you make of the surreal, unsettling, often terrifying but also full of potential world that we currently live in? What do you think the future holds for us all?
A.  We live in a PKD universe. He anticipated the multiplicity of realities that co-exist today from UFO's, to conspiracy theories, to ecological collapse, AI and Transhumanism. Shortly before his death philosopher and cyber shaman Terrence McKenna was quoted saying we will soon be immanentizing the eschaton, a transcendental object at the end of time. Then I wasn't sure what he referred to, but now I know. My advice is to learn to surf the the transcendental tsunami coming towards us and PKD showed us how to do it.
For more information on this year's line-up and to book tickets, visit:
philipkdickfilmfestival-europe.com/program
Make sure to follow the PKD Sci-Fi Film Festival on Twitter for more updates and information.