If you have been following this blog over the years you will know how deeply influenced I am by the works of Philip K. Dick.  His ability to unpick with great foresight the future trajectory of the human condition is still to this day, despite widespread appreciation for many of his works, an under-appreciated aspect of his large collection of writing.  Despite some of his flaws as an individual, and he certainly had a few, he left us all with a fascinating depiction of the often unspoken underbelly of contemporary society.  Showing us that beneath the corridors of institutional power lie the insecurities and insanities of modern identity, formed by the misguided impulses of a socioeconomic reality that increasingly abstracts us away from the vital core of what it means to be fully empathic and human.
It is thus with great pleasure that I can announce that Future Conscience is going to be a media partner for the PKD Sci-Fi Film Festival, now entering its fifth year and going from strength to strength.  We'll be hearing from the festival founder and director, Daniel Abella, here over the coming months and we begin today with an interview about the origins of the festival and what we can expect looking forward…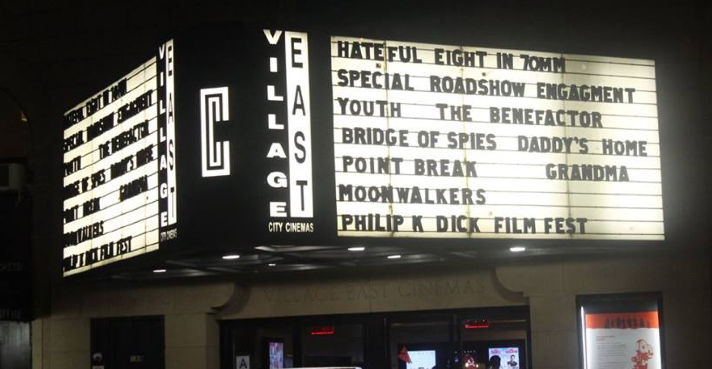 Tell us a bit about how the PKD Sci-Fi Film Festival began…
The Philip K. Dick Science Fiction Film Festival emerged from a series of thoughts and discussions I had with friends over several years.  It seemed to me that most of the sci-fi out there relied on special effects and cliché stories.  I wanted to see more films with soul, films that address our deepest concerns about our place in the cosmos, more films like Invasion of the Body Snatchers, The Day the Earth Stood Still and 2001: A Space Odyssey.  I found Philip K. Dick when I came across a quote by writer Ursula K. Le Guin about how we need not look any further, we have our own home grown Borges and his name is Philip K. Dick.  Being a huge fan of the magical realism of Julio Cortazar and Jorge Luis Borges, I was intrigued and immediately proceeded to purchase a copy of VALIS, a latter day novel by PKD.  I read in it one sitting and I had found the Man.  From that moment on I was hooked on PKD and decided to organize a festival in his honor.
What draws you to Philip K. Dick in particular?
Philip K. Dick explores the most fundamental questions of our existence such as "Who are we?," "What is the nature of reality?," "What is it to be human?" and "Where are we going?"  His characters are not superheroes but everyday people attempting to remain human with dignity in a world of progressive dehumanization.  Philip K. Dick is more than a sci-fi writer; he is the prophet for the modern embattled man.
There seem to have been more films of PKD works made than anybody else – do you have any favourites?
Some of my favorite PKD films are Radio Free Albemuth (which won the award for Best Science Fiction Feature at our inaugural festival in 2012), The Adjustment Bureau, Blade Runner, A Scanner Darkly and the Amazon series The Man in the High Castle.
Any of his works that have yet to be adapted that you would like to see?
I would love the see a faithful adaptation of VALIS, The Divine Invasion and The Transmigration of Timothy Archer, all works done a few years before Philip K. Dick's passing.
Looking back over the last four years of the film festival, which submissions really stand out?
Radio Free Albemuth was a great adaptation of the novel.  The characters are very human and awkward, far removed from the steroid adaptations of their Hollywood counterparts.  Other films that stand out was one we received back in the first festival called HENRi, starring Keir Dullea and Margot Kidder.  This is a very powerful short combining all the elements of a good PKD story.  This past year we received amazing shorts Genghis Khan Conquers the Moon starring Cary-Hiroyuki Tagawa, Clones starring Rutger Hauer and The Art of Human Salvage starring Edward James Olmos.
Any surprises or particularly surreal pieces?
For bizarre and surreal, I highly recommend The Incident by Isaac Ezban.  This feature combines the best of David Lynch and Alejandro Jodorowsky.  For the fan of surreal sci-fi, you will not be disappointed.
What has the response been like from fans, filmmakers and producers?
I think our fans know we keep it real.  They support our hard core cerebral sci-fi.  Currently we have some notable producers following our festival on Twitter and filmmakers love the community we are creating. There is a real sense of bonding among everyone.  Many have told us they had a blast at our festival. There is no pretension or hipster coolness, just honest and smart sci-fi.  Our motto is that this is a festival where the outsider feels like an insider and the stranger has found a home among friends.
What lessons have you learned along the way? Any pieces of advice you would share?
I would say the most important lesson is budgeting.  To keep the festival running you need make sure you can pay all your expenses by the start of the festival.  This way you will feel relaxed and avoid any hair splitting moments over unexpected costs.  Until the big sponsors come, we rely upon the generosity and good will of our volunteers, fans and filmmakers.  We are in it together.  The PKD fans are some of the greatest group of people I have come across.
Submissions are now open – any tips you would give to aspiring filmmakers?
Keep the submissions coming.  Think story, acting and narrative.  We are looking for stories that will blow our minds and you can do it without fancy effects.  Just good ideas and acting.  Don't be afraid to re-invent the medium, play with cinematic grammar, push yourself and avoid cliches.  Dare to dream and let your soul take you to new universes.  Then come back and tell us about them.
Submissions can be made on Film Freeway (at www.filmfreeway.com/festival/ThePhilipKDickFilmFestival) and Withoutabox (at www.withoutabox.com/login/9016).
Thank you, Daniel, for taking the time to answer these questions.  We look forward to hearing more from you in the future about how the festival is coming along and digging deeper into the work and mindset of Philip K. Dick.
If you are one of those talented people inspired to make a submission, do let us know and leave a comment below so we can follow up with you about how it goes and the filmmaking process!