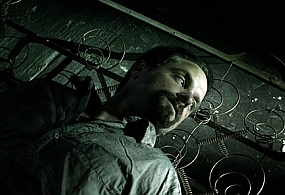 It's kind of odd to think that it was two years ago almost to the day that I first got to see a preview screening of the Philip K Dick adaptation Radio Free Albemuth.  That original review has gone on to be the second most viewed post on this blog, something I'm grateful for because it is quite a personal piece in many ways.  The film is a fantastic addition to the legacy of Philip K Dick, and is a must see not only for fans of the author but for anybody who wants a more cerebral and spiritual approach to their film viewing.
So, two years later and the finished edit of the film rolls back into town for the Sci-Fi-London Film Festival – of course I'm going to go and see the finished product!
Before reading my thoughts on this final version – go and read the original review I did for the film.  It displays my appreciation for this work and what it is trying to achieve in a way that I wouldn't be able to repeat here.  Consider this an addendum to the first review.  You've gone and read it now?  Great, let's continue.
This viewing didn't have quite the perfectly surreal circumstances surrounding it that last time had, but there was the extra bonus of being able to meet Writer/Director John Alan Simon, and Producer Elizabeth Karr, who were at the screening to answer questions and talk about a project that has been at the forefront of their lives for the last few years.  I'm lucky enough that John Alan Simon also agreed to provide some insight for this site, and after a few thoughts on the final version of the film you can find the resulting interview below.
It's hard knowing how to review a movie for the second time, but it's easy to say that I still stand strongly by everything I originally stated – this is not only a film for fans of Philip K Dick, but one that takes very seriously the important message that lies at the core of the work and makes it accessible for any audience.  With a second view, it also gave me a chance to develop an added appreciation for some of its depth.
This is particularly the case for certain character portrayals that I overlooked the first time, such as the subtle and reserved performance from Katheryn Winnick, who plays Rachel Brady.  Her character is marginalised as part of the narrative, and I had done the same when first viewing the movie because I was so caught up in the near perfect portrayal of Philip K Dick himself by Shea Whigham (a performance that rightly deserves a great deal of praise).
Likewise I found a new appreciation for Jonathan Scarfe, who plays main protagonist Nicholas Brady, because with the first viewing I was distracted by the obviously constructed special effects shots that he is often in and overlooked his ability to convey the self-assuredness of a character that others think might be going insane whilst he himself maintains a sense of calm lucidity.  The performances throughout the film sometimes miss the mark, but there's also a sense of authenticity that's hard to articulate but comes across clearly on the screen.  This is a deeply honest film, and as such it makes for refreshing viewing amongst the cookie-cutter blockbusters that we're used to.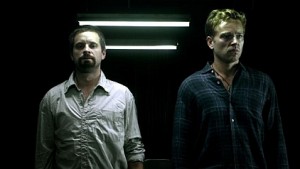 Radio Free Albemuth is a film that rewards repeat viewings – and not just because this version was more tightly edited and had a more immersive pacing than the preview.  There are levels of detail both in the world, but also emerging from the ideological and spiritual depth of the original text that speak to you differently depending on the person you are at the time.
It is this malleability of how you relate to the film that speaks so highly of its quality and the timelessness of the original source material.  This is a film that will always be relevant, and you will lose yourself in the contemplative flow of its content and form.  It was a labour of love when first written by Philip K Dick – a deeply personal narrative journey – and it has equally been born into the world of film with the same sense of mission and purpose by those who worked on it.  Thankfully, this has paid off with an incredibly deep film that will stand as a perfect tribute to the life and work of Philip K Dick.
I think I already summed up my thoughts best when I wrote the first review, so I'm going to quote myself here to conclude:
"You don't get the masterful cinematography of Blade Runner.  It doesn't have the flawless characterisation of A Scanner Darkly.  Instead, Radio Free Albemuth provides us with the most faithful film representation we have to date of just who Philip K Dick was as a man, a writer, a mystic."
But enough from me, here's some insight from Writer/Director John Alan Simon:
1) It's been two years since the preview of the film in London, and you've taken the film around the world since then.  Has any aspect of the film been changed based on the early feedback you were getting?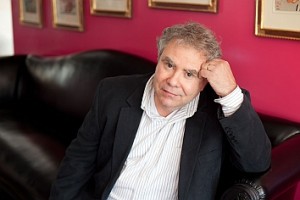 JAS: I think it might have been Francis Coppola who once said – "you never finish a movie, you only abandon it."   And I've discovered there's a lot of truth to that observation.   Early on, I made the decision that I would rather make a movie that a select number of people really loved – than a film that a larger number of people merely liked.   So I was lucky to have that freedom.
When we screened to Sci-Fi-London in 2010, I knew there was more I wanted to do with the movie but I wasn't sure precisely what.   The people who I had hoped would love the movie did – in fact – love the movie, including yourself at Future Conscience.   I always knew this was not a film for everyone.  But I also felt in screenings that I attended at various festivals that there was a large part of the audience who should have "liked" the movie more than they did.
I showed the film to quite a few people to help me "diagnose" the problem, including Chris Rouse who won an Academy Award for Bourne Supremacy and multiple BAFTA's.    He really liked the film but suggested taking a look at just small changes.   Another director friend, Jonathan Heap made a small suggestion about an early scene – ending the scene with a slight trim.   And that change triggered my taking a look at the pacing throughout.   I realized that while each scene was "well-edited" there was a kind of similar tempo to many of the scenes.
So with about 150 small trims, I think I was able to pick up the pace and also create more tension through the rhythm of the scenes.   This also suggested to me to use music a bit  more – so I worked with the composer Ralph Grierson to add about 12 minutes more musical score.   Those changes had the benefit also of cutting the movie's length by close to 12 minutes.   No one asked me to cut the movie and no one forced any changes, it was all my decision and I think the movie "plays" much better as a result.   By happy chance, the first screening of the final version was the screening that Variety chose to review – and we got a really, really excellent review.
2) As a futurist blogger, I'm interested in what you think are the key messages of the film (and book) when related to society today and looking forwards?
JAS: I think there is an almost "timeless" quality to all truly successful works of literature (and cinema, also).   And just as that applied to Orwell's 1984 and Huxley's Brave New World, so, too Radio Free Albemuth.   When I first read the novel, Richard Nixon was no longer president, but there was no war on terror or George Bush, but I still found the book extremely meaningful.  Perhaps at that point, the mystical and spiritual aspects seemed the more important.  As world events changed it seemed like RFA was torn from the headlines, as they say.   Then after Obama,  I was a little concerned about the relevance.  And then the Arab spring – then Occupy movement – now Syria – and perhaps Russia.   The message of the novel – and the the movie – is essentially eternal.  As the character of Silvia says: "it's an ancient struggle, the value of the individual against the supremacy of the state."
3) Philip K Dick is one of the most adapted authors by Hollywood.  Do you feel the industry respects him as an important part of literary history, or is he seen more as a repository for off-the-wall ideas that make good action flicks?  Does Hollywood get Philip K Dick?
JAS: Hollywood is not monolithic anymore – perhaps it never was.    The studios are run by smart people who have run the numbers.   It makes more sense economically over the long-haul to make a single $100 million movie than a hundred $1 million movies.   So that's what they do.   And $100 million films have to appeal to a very large number of people or – you have John Carter, right?   And the head of Disney finds himself out of a job a few weeks later.
Philip K. Dick had one of the most inventive minds of the 20th century, in addition to his brilliance as a writer.   So it's irresistible for Hollywood to "license" those inventive ideas and build large-scale, popular entertainments while jettisoning the humanistic values that really motivated much of Dick's writing.   And then at a certain point, Philip K. Dick the writer becomes "Philip K. Dick" the brand.   And any chance that adherence to even the bare skeletal structure of a story is gone – hence Next or even Adjustment Bureau.  This is not to knock those films – both were enjoyable on a certain level – merely to state the truth that neither had much at all do with the original works they were ostensibly "based" on.   We ended up using this reductionism to our benefit.   I asked the question, what is the "star" of our movie is the "Philip K  Dick" brand name.   How much can we afford to make the movie for based on that economic assumption, and thereby remain as absolutely faithful as possible to the story and spirit of Radio Free Albemuth.
4) The film is an authentic representation of a very personal work – how did you go about achieving this authenticity (particularly with the character of PKD himself), and how has it been received by his family and others who were close to him?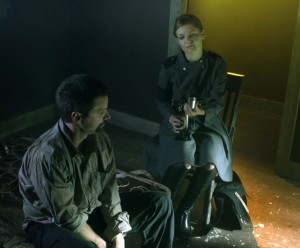 JAS: I like actors and, having worked in theatre some, I enjoy the process of working with actors.  Not all film directors do.   But I will agree with most directors that "casting" is the most important element for getting a great film performance.   If you cast the wrong actor it's very hard for even an enormously skilled director to "recover" from that error.   There simply isn't enough time while making a film.   So I like to spend a long time casting and to learn from every actor I audition something new about the character and the approach to the dialogue.
I knew that I would probably not cast very well known actors for the leads, because I thought it would likely take the audience out of this strange,quirky alternative world to see Brad Pitt or Mark Wahlberg in the lead parts.   Not that we ever approached them!   Or would have had any chance to get them.  (By the way  If Brad Pitt HAD decided to make this movie, it would have become an entirely different movie – in terms of budget, effects, everything.  That's like what happens if the Queen or President of the U.S. accepts an invitation for a "small dinner" at your house!).
So I feel very fortunate to have been able to find the right actors for these parts.  I try to focus very hard on three or four qualities that I want each character to embody.  Qualities are so basic usually that it's not a question of acting – but more of "being."   On stage you can have enough rehearsal time for an actor to "stretch" the boundaries of his own character dynamic but not usually for a film – and especially not such an ambitious film as RFA with a very tight 24 days shooting schedule.
I told Shea Whigham that he didn't need to "impersonate" Philip K. Dick because unlike Philip Seymour Hoffman's challenge for Capote, there isn't much video of PKD out there.   He didn't have a very distinctive accent.   I gave Shea some documentary footage but also said just to find the "truth" of the character as written in the script.   Although PKD made himself a character in the book, it's an alternate reality- and therefore, especially in the movie, I felt we didn't have any obligation to be 100 per cent faithful to the actual man but rather how he thought of himself.   Which is always better than any of us really are.  In reality, PKD had five wives and lots of quarrels in his personal life with friends.  In the book and even more so in the movie, it is a more idealized view of the man as both artist and friend.   So in RFA, the character of PKD is very cool,  almost in the the Beat generation style of Kerouac or Neal Cassady.   So we discussed that – and in trying that approach I think we really succeeded beyond my expectation.
PKD's daughter Isa Dick-Hackett really liked both the movie and Shea's performance.   And when we were at the Science Fiction World Con in Reno last year, we were chosen to screen after the Hugo Awards ceremony – one of the sf writers in attendance had known PKD while they were both living in Berkeley.  she said that was a very cool guy at that age in the movie – mid-thirties – and she couldn't believe how perfectly Shea had captured Philip K. Dick.  So perhaps by ignoring the "facts" we arrived at something close to the real truth.
5) You're connected to an in-progress adaptation of Flow My Tears, The Policeman Said. Can you give us any updates on this project?  It's a much larger scale story to adapt, are you excited about this? 
JAS: My producing partner Chip Rosenbloom and I also own the film rights for Flow My Tears.   I have written many many drafts as different actors and directors have come onboard, stayed awhile and left.  Not all that unusual in Hollywood on big budget projects.   Now that RFA is finally going to be making its way into the world,  I can really focus again on Flow.   And, yes, that's exciting.   It's a great story – and I'm confident that the right collaborators will find their way onboard.
6) Finally a more general question.  How do you think the art and medium of film will progress over the coming decades?  What are some of your futurist projections for the industry?
JAS: My predictions?   Death of 35 mm film – long live digital.   Bigger and bigger event movies will drive out "smaller films" leaving only the very "smallest".   For awhile at least.   Than a renaissance of very personal filmmaking that will rival and surpass the seventies as a golden age!   I hope to be around to take part in that!    3D will be accepted as the "norm" just like the introduction of sound and color and so there will be no real "economic benefit" since the audience will simply "expect" most movies in 3D.   Storytellers will figure out how to use 3D in more artistic and subtle ways.
I would like to thank John Alan Simon for taking the time to answer these questions – and more importantly to him, Elizabeth Karr and the rest of the Radio Free Albemuth team for their tireless efforts in bringing this project to completion!