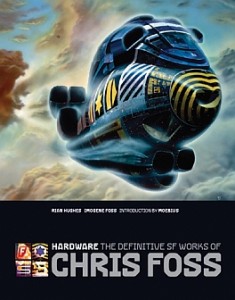 If you've ever wondered why science fiction paperbacks from the 70s and 80s often shared a similar look then Hardware: The Definitive SF Works of Chris Foss will show you exactly why.  Chris Foss' work has shown up on the covers of most prominent sci-fi authors of the time: including Isaac Asimov, Arthur C. Clarke, Philip K. Dick and even action adventure writer Clive Cussler (I always thought they looked familiar).
Thanks to being sent a review copy of this latest work from Titan Books, I'm able to take a look at a comprehensive collection of the artists' work and let you know whether it's a book worth keeping on your coffee table.  The short answer for the science fiction fan is yes, and at current online prices it shouldn't be missed.
First things first, the book is a hefty art hardcover coming in at 240 full-colour pages.  For the RRP of £24.99 you're definitely getting a good deal when it comes to the quality of the book itself (Amazon UK is currently selling it for £14.39 – at this price, there's no question).  It really is a perfect example of how to produce an art book; the cover has a nice gloss/matt two-tone effect on it; the internal pages are thick with a slight gloss; the colours have been masterfully balanced and printed.  Overall, a clear testament to the pride that Titan Books takes in their work and a shining example that other sci-fi and movie art books would do well to learn from.
The contents are almost exclusively the artwork, with little added explanation.  There is a great essay on the impact of Foss' work which highlights just how influential he really was; bringing to the world a vision of angular spaceships of truly massive scale.  The author of the essay outright states that 'if there had been no Chris Foss, there may have been no Star Wars', so influential was his work that it defined our concept of interstellar transport through at least the 1990s if not still to this day.
This essay is partnered with a biographical interview which will be of particular interest to other artists as it goes into detail about his creative and technical process.  Finally, there are two anecdotal pages from people who worked with Foss – one from Jean "Moebius" Giraud, and the other by Alejandro Jodorowsky who has been involved in showcasing Foss' work since the 1970s.  The information in the book is great, although more of it would have been much appreciated as it really leaves you wanting further insight into the various projects that he has worked on over the years.  You really have to go into this book just for the art, as beyond half a dozen pages of text the remainder consists of images alone which is a real pity for those of us more interested in the thoughts and experiences behind the artwork.
The quality of the art reproduction throughout is top notch.  It is stated that wherever possible scans of the original artworks were sourced, although many pieces are no longer available and thus retouched book covers were necessary.  In regards to this, it would have been nice to have seen some of the actual book covers, full copy text included, to get some better historical context but otherwise the reproductions are superb.  Foss' work is so vibrant with colour and the book has been published with such great attention to detail that it is difficult to think of a better tribute to the man's body of sci-fi work.  For those of us with less knowledge (I myself didn't know his work by name, despite owning a number of books with it on the cover) the book is let down by the lack of textual depth, but nothing that can't be overcome by further online reading.
The only other criticism I might make is that so much of Foss' work is very similar in subject and style that they can blend into one another a little bit.  Although I would never underestimate the influence and both visionary and artistic skill behind it, the majority of the book consists of brightly coloured spaceships flying at an angle either into or away from the viewer over contrasting backgrounds. After seeing a few dozen examples you do start to flip through the book a bit more quickly.
This similarity can be contributed in large part to the commercial context of Foss' work, but for me the highlights were in the pieces that strayed away from this formula – the rare works with human figures in them for example, or the behemoth-sized robots.  Having said that, what this book does is truly showcase one of the most influential science fiction artists of the 20th century; and particularly for those who read a lot of sci-fi in the 70s and 80s the book will bring with it a sense of nostalgia that is always valuable alongside the truly classic pieces of art.
For fans of Chris Foss' work it is a must-buy; for science fiction fans in general it is to be recommended but would have benefited greatly from some more context and insight into the life and project anecdotes that make up such an illustrious career.  There must be reams of stories to be told about famous authors, directors, producers, and movie sets – and the few glimpses we get make it all the more disappointing that more wasn't included.
In the end, even if you don't pick up this particular book (but seriously, £14.39 is a steal!), it places Titan Books on the map for high-quality, modern publications – so I will definitely be keeping a very close eye on everything else they bring out in the future, because this level of quality and pride in the art of book production and publication deserves to be commended and supported.