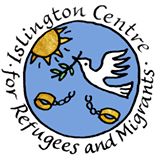 A week ago I posted about a charitable initiative that I am taking to help raise awareness of the vital services impacted by the realities of economic austerity regimes.  Today I came across the second charity that I will be supporting with a small donation – which is the Islington Centre for Refugees and Migrants.
The centre has been running for 15 years, and operates to provide "support and hospitality to refugees, migrants and asylum seekers who want to participate more in the country where they have found sanctuary."  Given the level of systemic xenophobia against migrant communities in the UK, ashamedly a key feature of the recent General Election, this is the kind of service that deserves widespread support and encouragement.
It's also an example of the indirect effect of funding cuts to sectors such as education.  The charity has always been supported by generous grants given by Waltham Forest College.  However, as government funding cuts have removed £1.5 million from the college's budget they have had to cease providing funding for the Islington Centre for Refugees and Migrants.  The charity has as a result lost a funding stream of £200k per year as of December 2014.  Ultimately, it is those in need of support having escaped from devastating circumstances that suffer once again and are the true victims of austerity.
Please join me in donating to the Islington Centre for Refugees and Migrants, and sign the petition showing your support.  They also have a fundraising event coming up in July, which would be a great way to get involved!