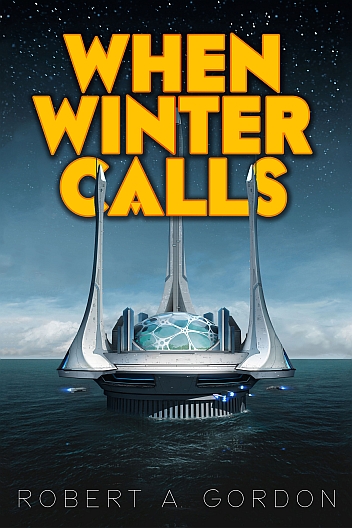 When Winter Calls
294 pages
Available Now on Kindle!

"A terrifying glimpse into a future where humanity can be 'improved' by technology and corporations govern. Robert Gordon spins a cautionary tale about the increasing omnipotence of corporations and an endless appetite for pushing the boundaries of technology." – Elizabeth Karr, Producer of Radio Free Albemuth
Research is the Door to Tomorrow
Welcome to Caldera, the corporate enclave in international waters where cutting-edge research meets employee utopia.  As Sentivue Industries prepares their new flagship product – a neural interface that connects the user to the collective knowledge of the ages – Jared Elsworth is tasked with ensuring a smooth and successful launch.
But with winter setting in and many of its residents preparing to leave, something doesn't seem right.  People are acting strangely, and the citycorp begins to take on a much darker and more violent tone.  Is the interface causing the changes, or is somebody pulling the strings?  When isolation is the key to corporate sovereignty, how do you overcome a sinister force that has taken control?
Robert A. Gordon is an anthropologist who has been writing about the ethics of future technology for the past decade.  Dedicating his professional career to engaging the public discourse on questions of morality and social purpose, he has consistently worked on themes of corporate power, governance and innovation.  When Winter Calls is his debut novel, a science fiction thriller that explores the boundaries of our personal and collective identities in an ever-changing world.