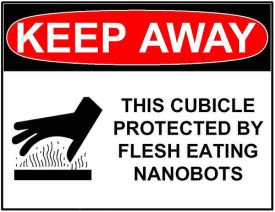 Today marks the official launch of the Centre for Nano Safety based at Edinburgh Napier University.  Given the discussions that have already taken place here about the need for tighter regulation and safety protocols in regards to the commercial use of nanotechnology and nanomaterials, this is a fantastic step in the right direction.
The centre is being directed by Prof. Vicki Stone, who is also the current editor-in-chief of the academic journal Nanotoxicology, and also has a number of additional research staff that cover many different areas in the field of nanotechnology.  Collectively, they seek to not only study the implications of using nanotechnology but also hope to work closely in collaboration with various industrial and commercial partners in order to ensure that the true risks involved with using various nanomaterials are understood and constantly updated.
At the moment, the centre is currently working closely with the Institute of Occupational Medicine on an initiative called SAFENANO – an undertaking that provides information and consulting services that have been "developed to enable companies to understand and minimise the health and environmental risks of working with nanomaterials".
We already have seen the beginnings of many different uses for nanomaterials at various stages of the manufacturing and distribution process.  Nanotechnology truly does have the ability to completely revolutionise everything we think we know about our products, our industrial capabilities, and even our own longevity and medical treatment.  However, given that we are discussing a field that will eventually have access to the interior of the core cellular and genetic structures that we consist of, enough caution can never be taken to ensure that the field progresses in as safe, and transparent, a way as possible.
Good luck to the new team at the Centre for Nano Safety, and thank you from all of us for seeking to look after our well-being and the well-being of the ecosystem around us.