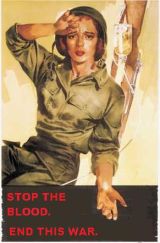 With each new Site of the Week I like to try and highlight a site that deals with a completely different topic to the ones that have been spotlighted previously.  What I'm also planning on doing, and did last week, is to use the Friday Link Roundup to also cover the same topic that the Site of the Week focuses on.
This week, I want to bring your attention to a news aggregation site: Antiwar.com.  The focus of the site is pretty self-explanatory, it brings together news articles from all over the globe that focus on the many different wars and conflicts  that are being fought at the moment.  In particular, it seeks to highlight articles that show a different side to these conflicts than might otherwise be focused upon in the mainstream media.
The site attempts to preach a message of non-interventionism, and began mainly as a way to speak out about intervention in the Balkans during the time of Bill Clinton.  They are a libertarian focused site, which was originally founded by the Randolph Bourne Institute in order to promote the ideals of non-intervention and peaceful prosperity that Randolph Bourne spoke about.
What you will find on the site is mainly a very large, and daily updated, selection of news articles that covers many different areas of the globe.  You will certainly learn things that you did not know were occuring right at this moment, and within even a day's perusal of the site you will be enriched and more knowledgable as a result.
Beyond this news aggregation, Antiwar.com also employs some of the best columnists that you will find anywhere on the internet.  Although their viewpoints are, of course, going to be predominately libertarian; each of them brings a different focus to their work and writing style, and most of them are very refreshing to read and forthright with their opinions.
I honestly can't recommend any site higher than Antiwar.com – it is a truly wonderful example of the power that the internet has brought to allow every individual to have a voice.  It shows that we can speak up against injustice when we see it around us, we can disagree with the status quo, and we can do so whilst promoting ideals of peace and prosperity for all those who share this world with us.