Very pleased to announce for those of you close to New York that tickets for the Philip K Dick Film Festival are now available!  The festival will be held between the 14th – 17th January 2016 and will be taking place at the Village East Cinema with 80 films from over 20 different countries.
Returning for this fourth annual event, the Philip K Dick Film Festival allows viewers to be enveloped into a thoroughly rewarding experience of masterful productions and bold expertise. Including screenings of feature length and short films but also panel discussions, filmmaker Q&A's, special appearances, videogames, documentaries and a gathering of hardcore sci-fi fans!
In the true spirit of Philip K Dick the festival looks to be covering such a wide range of futurist and science fiction topics that you're certain to find more than a few things to peak your interest. From artificial intelligence to longevity, alien abductions to shared consciousness, supernatural forces to surfing robots!
I'm absolutely gutted that I can't be over there to join in on all the fun – so do me a favour, if you're over in New York in January make sure to pick up some tickets and celebrate the PKD Film Festival going from strength to strength.
Paperback Version of When Winter Calls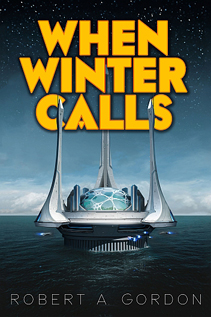 On a related note, given how heavily influenced I have been by PKD, I'm delighted to add that the paperback version of my debut novel When Winter Calls is now available for purchase through Amazon. I'll be working on sorting out a few other distribution channels in the new year, but please do take a look and pick up a copy. It's a cracking science fiction thriller of corporate ocean utopias, neural interfaces and creeping paranoia – but don't just take my word for it:
"A terrifying glimpse into a future where humanity can be 'improved' by technology and corporations govern. Robert Gordon spins a cautionary tale about the increasing omnipotence of corporations and an endless appetite for pushing the boundaries of technology." – Elizabeth Karr, Producer of Radio Free Albemuth